| | | |
| --- | --- | --- |
| | | |
Deal Details:
Click photo to enlarge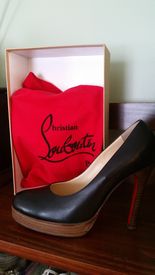 Simple Ways I Save on Clothing & Other Items for My Home
Posted: August 19th, 2016
Some people often think the more you spend on an item, the better you will look. That's not always the case. There are several different ways to save money on clothing and still look Fabulous while staying within a reasonable budget.

Here are a few tips that might help you save some money:

Don't Pay Full Price Ever!

Sometimes I wish people could take a merchandising course to understand why paying full price for items is just ridiculous! I worked retail for 12 years and studied business in college so I know first hand the mark-up on items at the store. Stores mark up their items 30 to 100% from what they originally purchased it for, from the merchandiser, so they can make a profit. Even when you shop the clearance rack, the store is making money on you...Think about that!

Trust me, you do not need ANYTHING that bad right now to pay full price! The item you love will most likely go on sale at a much lower price in a few weeks or even a few days. Just be patient!

The ONLY Exception to pay Full Price is if your item is Handmade by a Local Business. Local businesses who make handmade items are sharing their passion or creativity with you, so paying full price for their items is extremely important. Remember, you are paying for an item that is unique, not mass produced! Not everyone will have this item, which honestly, I absolutely love. Unique items from a local business will have everyone asking ask you "Where did you buy that?" I guarantee it.


Shop the Clearance & Sale Rack

When you walk into a store, train yourself to ONLY buy items on sale or on clearance. Shop at the end of the season or after the holidays. Prices will be cut to almost 90% in some stores!

If you do not need clothing, don't buy an item just because it's on sale. Saving 40% on an item you will hardly wear, is not a great deal!


Coupon Codes or Coupons

Before you head to the store make sure check online for coupons for your favorite store! Get on your store's mailing list so coupons will be emailed to you.

Shopping Online? Look for coupon codes at RetailMeNot.com They offer lots of great coupon codes and printable coupons to help you save.

Shop for Classic Pieces, Not Trends

Classic pieces such as a denim jacket, a trench coat, or a wrap dress never go out of style. Trendy clothes tend to cost more and only stay around for a season or two. If you see a trend you really like, look for only one or two pieces on sale. That way you don't lose too much money if the trend only lasts one season.


Do the Surveys at the Bottom of Your Receipt for a Discount

After you purchase an item from the store, look at the bottom of your receipt. Some stores offer surveys to customers and then give a discount code towards your next purchase.


Shop at Thrift Stores or Consignment Shops

Thrift stores and consignment shops sell gently used clothing at a huge discount. I can usually find some great classic pieces for less than $8 at my local consignment shop. Plus I love finding unique items at consignment shops. I don't like to go to an event and running into someone wearing the same shirt or dress as the one I am wearing. I enjoy being different and shopping at consignment shops helps me be unique!


Local Consignment Shops:

The Village Basement, New Hartford

The Queen's Closet, Yorkville

Revolve, Rome

One day I actually found a pair of Christian Louboutin shoes at The Village Basement. Christian Louboutin is French fashion designer. His trademark is shiny, red-lacquered on the soles of his shoes. Celebrities are always pictured wearing his shoes. I've always wanted a pair but the price tag for a pair of shoes ranges from $495 to $2,000. That's a bit out of my price range. When I found this pair, they were only $175. Still pricey, but totally worth it in my mind. They were vintage and they were probably the only opportunity I was ever going to have to own a pair of shoes from this famous designer!


ThredUp is a great online clothing consignment websites that can help you save.

I clean out my closet a few times a year and either send a bag to the online consignment website or I bring the items to my local consignment shop. I then use the money from the sold items to pay for new classic pieces for my closet or for around my home.


Need a little style inspiration? Check out MV Parent's Style Board on Pinterest .

Feel free to contact Kelley at mvparent07@gmail.com for more information.