| | | |
| --- | --- | --- |
| | | |
Deal Details:
Click photo to enlarge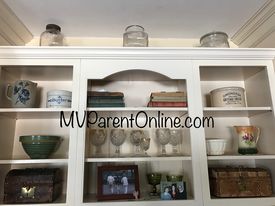 Vintage Decorating - A Great Way to Start a Conversation
Posted: March 23rd, 2017


Even though it's still cold outside, I know Spring is right around the corner. How do I know? I have the redecorating itch in just about every room in my house! I always have this motivation just before Spring arrives, of course, this could also be from my slight addiction to Pinterest . Who knows! Those well decorated rooms I pin to my boards every other day are really inspiring!

Similar to the style of clothing you choose, home decor is a reflection of who you are. I personally love the farmhouse, cottage, French and vintage decor. It's a popular trend in most of the stores now thanks to Chip and Joanna Gaines from the hit HGTV show Fixer Upper!

But I was introduced to this type of decor waaaay before it became popular. You see...my grandparents owned an antique shop called "Remember When". I was constantly surrounded by vintage items and learned the detailed history of each one at a very young age. My cousins and I would even play inside the shop, with an antique cash register from the 1900's, every time we went to visit!

My family also traveled to Bouckville several times with my grandparents and my Great Aunt & Great Uncle. We would help them set up in the middle of a field, for thousands of collectors to pass through and hopefully buy the items they had for sale.

Since my Grandmother and Great Aunt were big antique collectors, I've seen so many unique ways to decorate and use antiques around the house. They were constantly buying and rearranging antiques inside their houses, always keeping their home welcoming!

Now, my house is filled with the antiques from my grandparents private collection. Several pieces are from antique shows but others are family heirlooms. I have Antique Glass Jars on display in my kitchen that were inside my Great Grandparents General Store! How cool is that???

To me, there's just something about having a vintage piece in your home. It has become a fun way to start up a conversation when guests come over to visit. I usually share the history of how an item was used, where it originated from, how I found it, how much it's worth, and/or why I decided to bring it into my home. My children also enjoy seeing antique items throughout the house. Each piece has been a wonderful hands on history lesson!

So, if you are into the Farmhouse/Cottage/Rustic/Vintage home decor, consider stopping into a local antique shop. You might find a one of a kind piece that will become a great way to start a conversation with family and friends.