| | | |
| --- | --- | --- |
| | | |
Deal Details:
Click photo to enlarge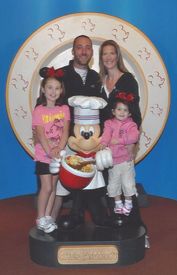 March 2016 is MV Parent's 9th Anniversary!
Posted: March 4th, 2016

The Month of March will forever be special to me! It was the month, back in 2007, I launched my website! MV Parent was created for parents and inspired by my children.

Here's How MV Parent Got Started!

I'm originally from Syracuse, NY so when I moved to the Utica Area before I got married I didn't know a soul. I missed my family and friends back home so much I would drive out at least once a week (sometimes more) to see them and go shopping, because at that time, Consumer Square, Target, and The Orchards did not exist!

A month after my first daughter was born we moved into our newly built house. My husband works long hours so I was busy every day unloading boxes, getting the house organized and taking care of a new baby all at the same time. I didn't have the opportunity to get out and meet people. But once the house was settled and she was older, I realized quickly that we needed to get out and find fun places to go! The problem: I had no idea what was available in this area for children. I picked up The New Hartford Town Crier (a local town paper where I live) and saw an ad for a Kindermusik class at The Piano Lab in Chadwicks for kids around my daughter's age. I called the number, and the owner, Jeanette said the class we were interested in was full but we could still join in if we wanted to.

My daughter and I went to our first class and met some wonderful people! A group of us immediately clicked and started meeting up for play dates. I asked a few of the moms if there was a magazine that listed family events that I could pick up somewhere. They smiled and said no, but it would be nice if there was. Most said that word of mouth was the only way of finding out what was going on for families around town. I thought that was strange and in a way a bit unfair if you weren't originally from here. Every city I lived in or traveled to have some sort of local family magazine with events and family friendly businesses inside!

The summer of 2006, I decided to create A Parenting Guide for the Mohawk Valley and called it MV Parent. It was only a few simple pages created in a MS Word document. I had local family events listed, parenting quotes and crafts inside. I figured I would just hand them out to my friends to make our lives a little bit easier! Well, my friends loved it so much, that each month they handed out copies to their friends. I realized quickly there was a need that I was able to fulfill.

As MV Parent began to grow, I decided to turn my simple pages into a booklet which I created in Publisher and had printed at a print shop. A friend of mine took pictures for the covers and I sold advertisements to local businesses to help cover the cost of printing.

As the months went on it everyone loved MV Parent and I loved creating it. The only problem was the cost of printing. The booklet cost around $1,000 each month for only a few 100 copies! It was becoming an overwhelming out of pocket expense every month. I didn't have enough advertisers who believed in my vision to help with the cost of printing. So I put MV Parent on hold because I felt like I was just throwing money out the window. It was hard to stop creating it, but I just felt it was time to let go of it for awhile.

In October 2006 a few weeks after I stopped MV Parent I found out I was pregnant with my second child. My husband and I were in complete shock because it took a few years with our first so we just assumed that would be the case with the second child. Everything was perfect until the 10th week of my pregnancy. I was having some bleeding and was put on bed rest for a few days. I was so upset, because not only was I going through this emotional situation, my sister was getting married on Saturday and I was the maid of honor! We found out on Wednesday evening that the baby's heartbeat was no longer beating. We were completely devastated! The doctor wanted to set up a DNC the next day but I just couldn't do it, I wasn't ready to make a decision about anything at that time. I told them I needed time to think, because my sister's wedding was on Saturday. I woke up on Thursday and just felt empty. I knew I needed to make the appointment, but decided that I would make the appointment for Monday and put on a happy face for my sister's wedding. This was her day to shine, I didn't want my horrible situation to take away from her day! I ended up miscarrying naturally at home on Thursday. It was an experience I hope to never, ever go through again! That weekend my emotions were everywhere. I was absolutely thrilled for my sister, but dying inside because I lost something extremely special.

After that I became very upset, almost mad at life for putting me through something so devastating. The more I sat around the more depressed I felt! I knew I needed to focus on something positive to get my life back together. That's when I decided to start MV Parent again. I knew it was the one thing that made me happy. I absolutely loved the rewarding feeling of helping others find fun events to do in our area!

I knew I needed a logo because I wanted MV Parent to turn into a business. So my sister, Amy, came up with a very creative concept for the logo design. She painted my daughter's hands, placed them on a sheet of paper and then made a digital copy of the painted hand prints. I absolutely love that MV Parent's logo is my daughter's actual hand prints. It's just amazing, I had no idea that was even possible.

Since creating the booklet was costing so much out of pocket I decided to search for a website designer. I was getting crazy quotes from people but then I came across a person named Charles Thompson from a company called No Sheep Designs . His prices seemed affordable so I met with him and told him my vision, that's what I called it! Within a week he came back with an amazing website design. It was exactly what I wanted!! We only had to make a few minor adjustments and the website went live in March 2007. I remember saying to him that I would be happy if I had a 100 people visit the website. That month I had over 8,000 hits! I couldn't believe it!

We still printed out copies of the guide to spread the word about MV Parent, but ended the printing for good in December 2007. The website was a lot easier to update events and I no longer had a huge out of pocket expense every month.

After the birth of our second child in the Fall of 2010, we began heading down a rough financial path of medical bills and other unexpected expenses. I'm a stay at home mom and one income at the time wasn't enough to pay all the bills. That's when I was introduced to using coupons to help save money. I knew we had to do something, because the stress was beginning to set in about the way we were living. Since money was tight for a long time, I taught myself how to use coupons on You Tube. Then it was a Trial & Error kind of thing, until I finally got the hang of it and started saving my family hundreds of dollars each month. I introduced the Savings part of MV Parent to my fans in 2011. I have a passion for saving money and wanted to share those ways with my family and friends.

When our taxes came back in 2012, we decided to be smart with our money. We paid off the medical bills and paid off other high interest credit cards.