| | | |
| --- | --- | --- |
| | | |
Deal Details:
Click photo to enlarge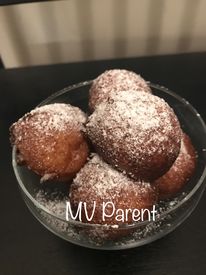 Disney Food - A Way to Ease the Pain In-Between Trips!
Posted: June 14th, 2017

Anyone who personally knows me, knows I am a complete Disney fan! If I'm not at Disney World then I'm dreaming about being at Disney World! It's just the best place to go on vacation, in my opinion!

So to help ease the pain in between trips I get myself into the kitchen and make some yummy Disney Food. Not just food in the shape of Mickey, food that we actually order & enjoy having down at the happiest place on earth!

One of our favorite restaurants at Disney World is Via Napoli, at Epcot. My husband is from Sicily, so to have some authentic meals he had as a child makes him very happy. I usually have at least 2 reservations at Via Napoli on our trips. Yes....the food is that good!

The first time we went to Via Napoli, our eyes were so much bigger than our bellies! We ordered just about everything for lunch! We were beyond full, but the dessert menu pulled us in! We each decided to try a different one. I ordered the Zeppole, and simply delicious! Zeppole is a deep-fried doughnut hole like a fritter. It was served with homemade whipped cream and chocolate sauce on the side. I was in heaven!

I thought finding a recipe for these yummy treats would be easy! Not so much. My mother in law is Sicilian and she made a few recipes for Zeppole....but they just weren't like the ones at Via Napoli. I searched Pinterest for recipes as well. Some recipes I've tried were good but they still didn't taste the same! As I was about to attempt another recipe I found on Pinterest I came across a pin for Zeppole, that looked exactly like the Zeppole dessert you receive at Via Napoli. I clicked on the pin and was brought to Magical Recipes where I found a recipe for Zeppole di Ricotta.

I grabbed my ingredients and crossed my fingers! I just had a feeling...this might be the one!

Sure enough....they came out EXACTLY like the Zeppole we have down at Via Napoli! I was beyond excited and so was my family!

Now we can enjoy this amazing dessert while we are at home, dreaming of our next trip to Disney World!


Zeppole di Ricotta

Ingredients:

1 1/4 Flour
1/2 Cup Sugar
4 Teaspoons Baking Powder
Pinch of Salt
1 1/4 Cups Ricotta Cheese
4 Eggs
1 Teaspoon Vanilla Extract
Vegetable Oil for Frying
Powdered Sugar for Dusting

1. Mix together Flour, Sugar, Baking Powder and Salt in a Large Bowl.

2. Add Ricotta, Eggs and Vanilla. Combine well.

3. Pour Oil into deep fryer or saucepan, several inches deep.

4. Drop batter by teaspoonfuls, I used this small cookie scoop , in hot oil.

5. Fry until Golden Brown. 3 to 4 minutes

6. Drain on Paper Towels & Dust with Powdered Sugar.